Past Events
|
Current Event
|
Upcoming Events
May 01 2010 to May 16 2010
This is the third exhibition of the unique and vibrant impressionist style paintings by Salt Spring's 'Lady X'. Preferring to remain anonymous, she paints events from her life with an honesty and passion that can only take place when an artist works without any intention of public viewing. Her pieces explore such themes as motherhood, love, jealousy and social events such as cocktail parties. Her work is compelling because it emerges from a lifetime of personal experience.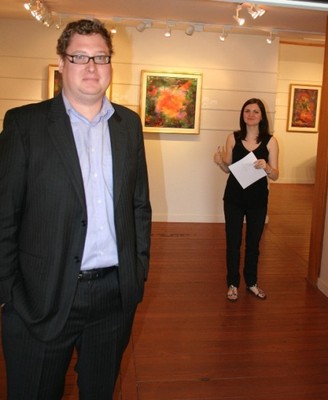 Ian and Claire are ready to receive guests to the Lady X reception.
Pegasus owners Ian and Claire Sigvaldason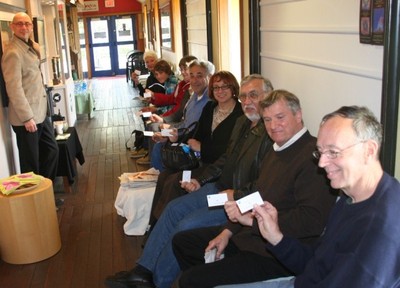 Dedicated collectors began lining up at 11:06 AM. Gallery manager Anthony Matthews keeping them entertained and in line.
The pre-opening lineup.

Virtuoso guitarist Alan Micelli soothes the ears while Lady X paintings hover over him.
Musical entertainment.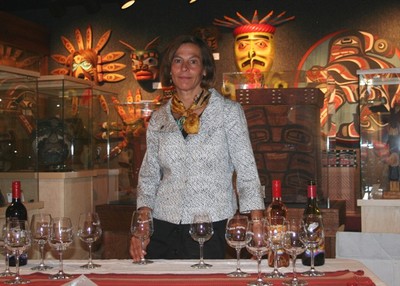 Fantasic wines served by the diva of Salt Spring Winery Joanne McIntyre against a backdrop of Northwest Coast art.
Salt Spring Winery diva Joanne.

Ruth Hopping, Claire Taylor and Georgia Taylor who all picked up paintings for their collections.
The Three Graces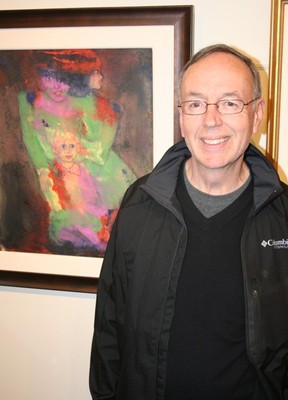 Grant Laprade, who was first in the line to purchase a Lady X painting, also had another member added to his family - a grand daughter. Congratulations!
Family Man

Hildy Barnett feeling very pleased to aquire the painting of her choice, along with her supportive husband Jeffrey.
Pleased as punch.

Pegasus co-owner Claire Sigvaldason and Kim Dalton, Pegasus Framing Manager, posing in front of `Anonima`.
Photo-op.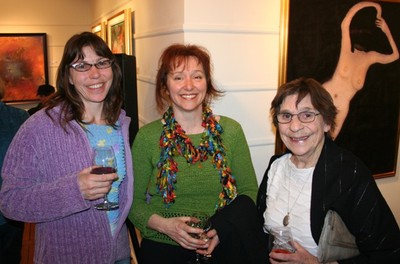 Gillian MacConnell, a guest and Joan MacConnell mingle.
Meeting family and friends.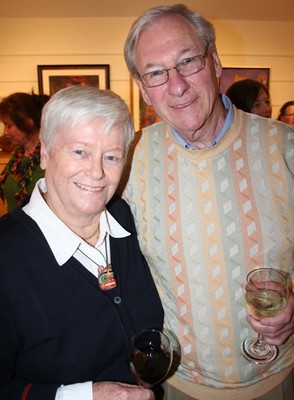 Great friends and supporters of the gallery, Sue and Terry enjoy the evening with us.
Sue and Terry Strain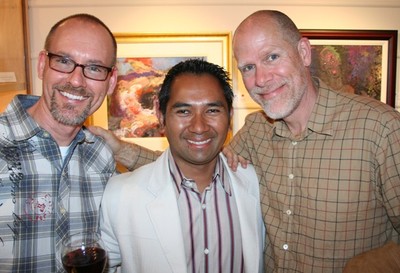 Jason, Rizali and John take some time to catch up on conversation and let someone else organize a reception.
Good friends meet and greet.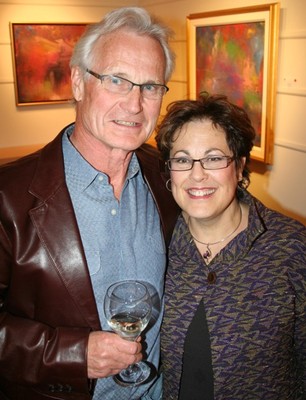 Another gallery supportive power couple take a moment to have their photo taken by Kim, who is behind the camera.
Gary and Carol Leach.