Past Events
|
Current Event
|
Upcoming Events
Aug 04 2007 to Aug 04 2007
PROMINENT B.C. ARTISTS - CALVER, PARKER AND AUGUST -- TO DEMONSTRATE TECHNIQUES AUGUST 4TH
DURING PEGASUS GALLERY'S 35TH ANNIVERSARY CELEBRATION Located in Mouat's Mall on Salt Spring, Artistic Pegasus Event Coincides with Mouat's Historic 100th Anniversary Weekend Festivities.
Richard Calver, a master of linocut print-making, revered carver Cicero August, and distinguished landscape painter Randolf Parker will reveal the techniques they use in creating their varied art forms. This unique opportunity for the public will take place during the afternoon on Sat. August 4th. A major exhibition of Calver's work and paintings by Parker will also be featured.
* Demonstration linocut print making in the gallery: 1- 4 p.m. Richard Calver, a former student of the celebrated printmaker Sybil Andrews, has risen to the top of the print making field in Canada. At his studio on Quadra Island, he produces complex masterpieces through a laborious process using linocut blocks and oil paint. Born in England in 1946, Calver prints each color separately from carved blocks, with each image requiring four or five blocks. Each block must be aligned perfectly, so printing one image – of which there could be an edition of several dozen prints produced -- can take one day.
* Class on landscape painting in the gallery: Noon to 4 p.m. Randolf Parker, born in 1954 in Huntsville, Ont., now creates panoramic vistas in oil, acrylic and watercolour in his Salt Spring Island studio. * Demonstration traditional NorthWest Coast carving in Salish design on the Boardwalk outside gallery: Afternoon. Cicero August belongs to the Cowichan tribe of the Coast Salish people. Along with Simon Charlie, with whom he apprenticed, and Floyd Joseph, Cicero is one of Canada's best-known and most-respected Coast Salish carvers. Born in 1940, Cicero, who now lives in the Duncan area, excels in carving and painting dance batons, healing sticks and talking sticks used in Coast Salish ceremonies. His favourite woods are pine, cedar and maple. One of Cicero's largest carvings is a 30-foot totem pole which stands in front of the B.C. Legislature Buildings in Victoria, B.C.
The Pegasus Gallery's 35th Anniversary Celebration -- Pegasus opened in 1972. It was founded by Reg Ashwell, the author of several books on Northwest Coast art, and subsequently owned by Yvonne Toynbee from 1982-2005. The gallery was then purchased by current owner and manager Ian Sigvaldason, a young Manitoba-born entrepreneur and art aficionado, in partnership with Winnipeg's Mayberry Fine Art gallery.

Master Salish carver Cicero August with patrons Dick and Tippy Fuchs
Cicero August with patrons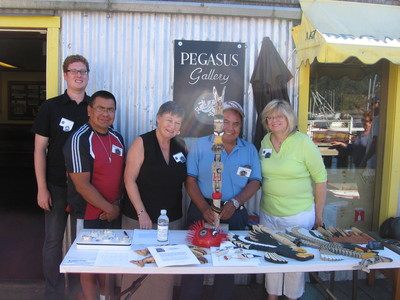 From Left: Ian Sigvaldason, Jedson August, Patricia Fraser, Cicero August, and Carolyn Grayson
Gallery staff outside with demonstrating carvers